Cakes
remove cake from freezer and let stand at room
temperature for 20 - 40 minute.
for best results dip knife in hot water before cutting.
8" cake serves 8 - 11 people.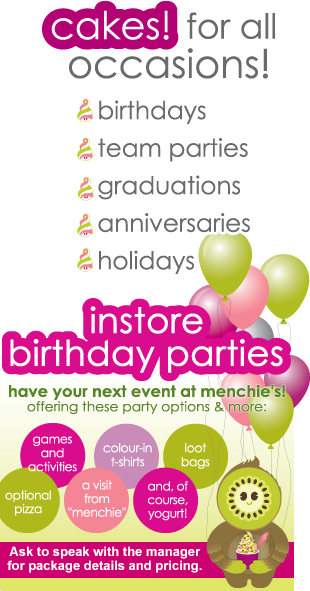 cookies'n cream delight
If you like cookies and cream (and who doesn't?), you'll love this cake. Made with one layer of cookies'n cream yogurt and one layer of vanilla yogurt. In the centre we add yet more delicious chopped chocolate cookies pieces. For the cookie lover, we top this delightful cake with cookies'n cream icing along with choclate wafer cookies.
chocolate vanilla brownie sensation
This traditional cake unites tasty chocolate and vanilla frozen yogurt. Between the layers we add chewy brownie bites. For a real chocolatey experience, this cake sits on a layer of crunchy chocolate cookie crumbs and is topped with chocolate icing and chocolate drizzle.
cake batter sprinkle cake
Like no other, this layered cake combines our signature cake batter yogurt with a delicious layer of vanilla frozen yogurt. Between the two layers are yummy cookie dough bites. The cake is topped off with vanilla icing and coloured sprinkles. This cake sits on a scrumptious layer of graham wafer crumbs.